We arrived early in the morning to Tofthoejskolen. Jakob, the principal of the school received us. We visited the Teacher´s Room where we meet several teachers. The Teacher´s Room is a meeting point for taking a rest by the teachers. They can talk and share a little free time like our «Recreo». They´ve a little kitchen there. They can share a coffee, a Tea and more. They can heat their food  and they also have a dishwasher.
After that we attended a meeting with the Enviromental council. The school is working with a special green program called «Green Flag»https://tofthoejskolen.skoleporten.dk/sp/p481472/foreside?pageId=54561f7f-e645-4e47-8e35-f3d74595fc52
As part of the work with Green Flag – Green School, we have established an environmental council at the school. The Environment Council consists of 4 students, a representative of parents of the school board, two members of the educational staff and two of the administration of the school.
After that they have given us a guided tour of the whole school. Many interesting points to see.
Here we can see a interesting system to connect to the ipad (the school give for free the ipads and the access to the platform where the student can found all the study books that they need.
Interesting place.  Technology Lab. In Denmark there are two very important areas related to Technology:
1) Treatment with wood
2) The seam.
Currently they are reuniting these two subjects in a new subject or area called Design.
The combined machine and the extraction systems are really impressive. Here in Denmark when Students finish the lower secondary school (from six to sixteen) have created a good base to work with wood and with the sewing. As we have said, they are directing their efforts towards design.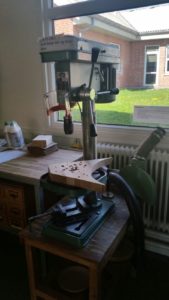 An special mention is related to the library, an open library. the library is open to the corridor.
Tomorrow more action!!!
Good Night and Good Luck!!